Atlanta is one of the most exciting cities in the country. Its rich history, endless entertainment, and natural beauty are just some of the reasons why people settle here. Within this urban metropolis are several beautiful green spaces, which really make Atlanta unique. Whether you're planning a trip or a move to Atlanta, here are the parks you'll want to visit.
Freedom Park
Freedom Park is one of the largest city parks in Atlanta. It's in the shape of a cross and runs parallel to the city's ultra-trendy Little Five Points neighborhood. The park also links together several other neighborhoods, like Candler Park, Inman Park, Old Fourth Ward, Poncey-Highland, Virginia Highlands, Druid Hills, and Lake. This is the perfect place to walk, jog, or bike. With over 200 acres to explore, there's no shortage of room or views.

Freedom Park is also Atlanta's designated "art park," thanks to its many art installations. To wander around is to see enormous modern sculptures, made from a variety of materials and representative of civic activism. Freedom Park Conservancy works to maintain these local treasures, which bring beauty, culture, and joy to the park.
Grant Park
Grant Park is Atlanta's oldest municipal park, located in the city's historic Eastside. The park itself is a square of lush greenery, surrounded by large Victorian mansions. To wander around the area is to feel transported in time. Walk or bike along the paved paths, and enjoy the quiet suburban feel of the area. You'll also notice a pool, tennis courts, playgrounds, and a lovely little pond, all of which are open to the public.

A great way to enjoy the park is to visit Zoo Atlanta! Kids love feeding the monkeys, petting the giraffes, and learning about the variety of animals that call the zoo home. Zoo Atlanta is also dedicated to conservatorship and research around the world, so your tickets will go to a good cause.

Grant Park is also home to the Grant Park Farmers Market, which was voted Best Farmers Market in Atlanta Magazine. On Sundays from 9 am-1 pm, people flock to the market to load up their bags with fresh produce, vegetables, meats, poultry, baked goods, and more. Some of the many vendors you'll see during a visit to the market include Bee Wild Honey, Formaggio, and The Spotted Trotter. Visiting the market is a great way to enjoy the park, while also sustainably supporting the community.
Piedmont Park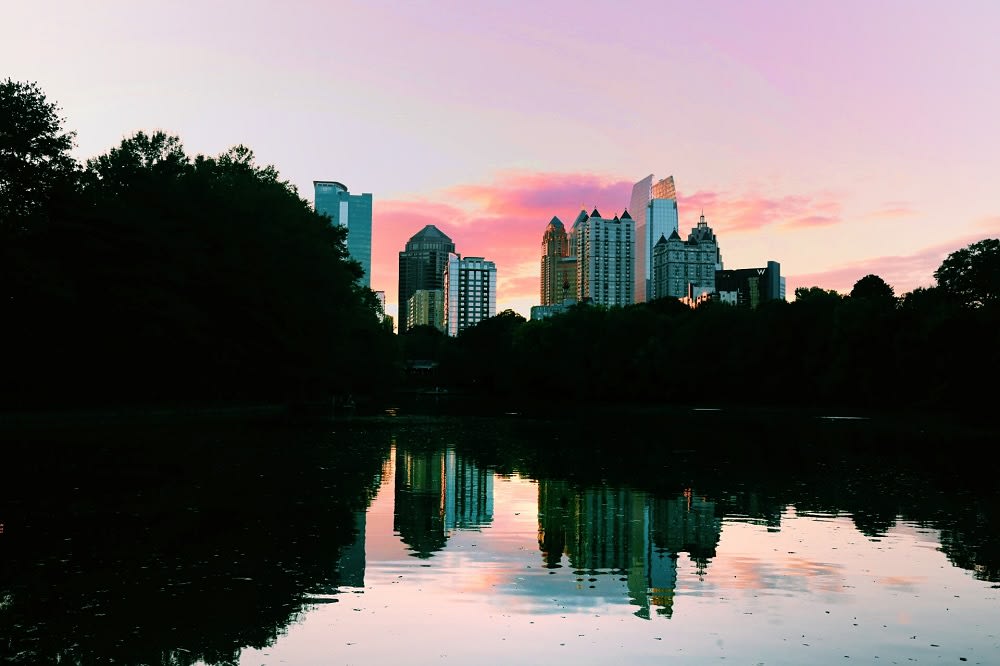 Since 1822, Piedmont Park has been a Midtown staple. It was a forest, then a fairground, then a suburban park, and now, it has come to be one of the most impressive urban parks around. It's Atlanta's biggest city park, boasting over 200 acres of parkland ready to be enjoyed. Bike, hike, or jog; take photos of the leaves changing in fall and the blossoms in spring; watch the kids play at the many playgrounds. You may also wish to take a History Tour or a Bird Watching Tour, both of which are offered by the park's Conservancy. Wander through the park alongside a team of experts, to learn about its rich history.

On Saturdays from March to December, Piedmont Park hosts the Green Market — voted one of the top five farmer's markets in Atlanta by Access Atlanta. A Saturday morning shop is a great way to kick off the weekend while also supporting local farmers and artisans.
Historic Fourth Ward Park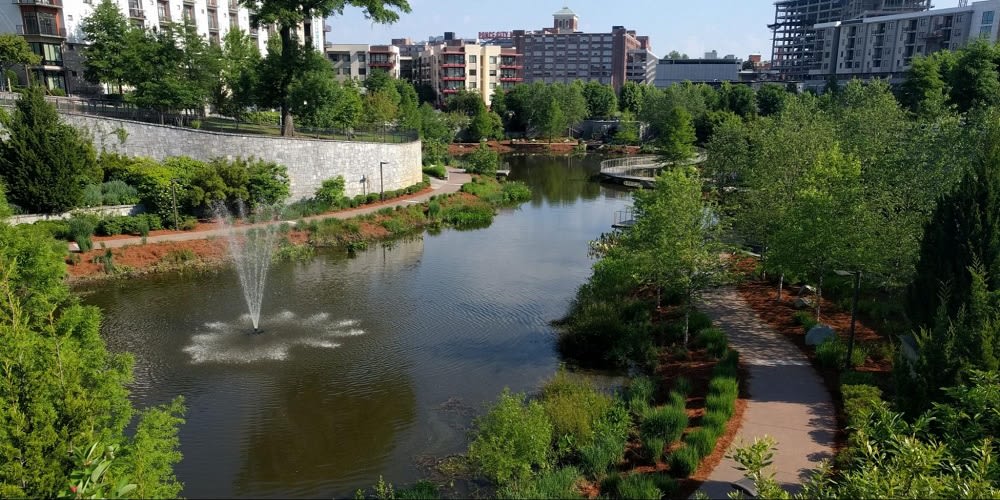 Owned by Atlanta but operated by a volunteer Conservancy, Fourth Ward Park is another historic jewel that continues to provide endless entertainment for the neighborhood's residents. The Conservancy's efforts have helped plant countless trees and plants, maintain facilities, and add shaded seating areas for visitors. They also encourage members of the community to engage with the park's conservation, with their "park adoption program." Local businesses take charge of caring for a section of the park, which helps fund the park's overall beautification.

As the first park along the BeltLine, it plays a major role in the community. Kids love playing at the playground or cooling off in the splash pad. There's also a skate park, as well as ample walking and picnicking areas. There's also The Clear Creek Basin — a lovely pond that actually serves as a water retention site. Don't wait to set up a blanket and relax!
Chastain Park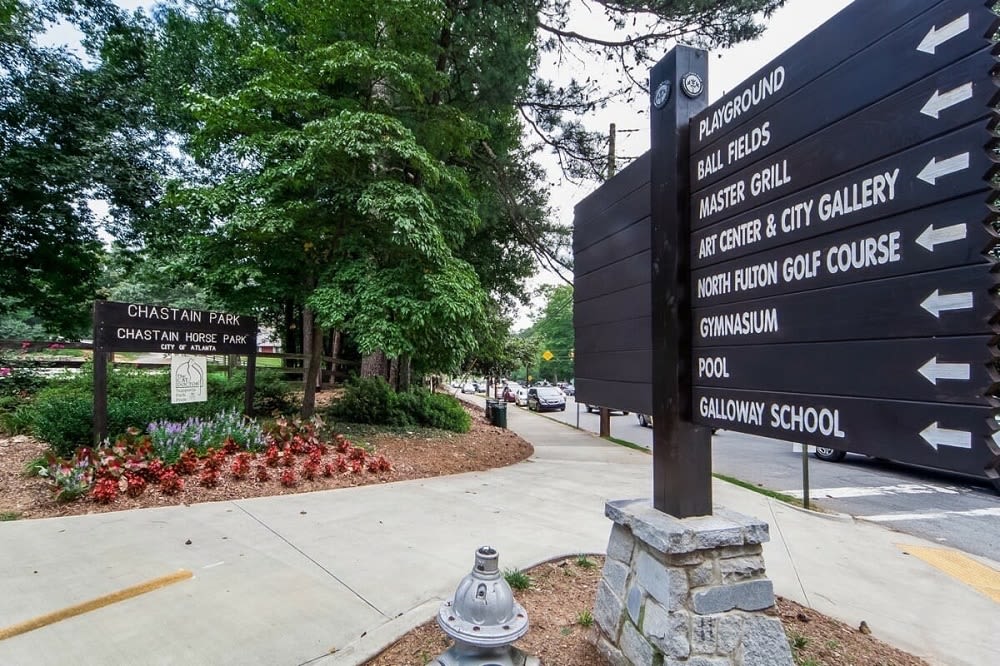 Chastain Park is Atlanta's third-biggest city park, and it is perhaps best known for its amphitheater. Dozens of major artists perform at the amphitheater throughout the year and provide outdoor entertainment for the Buckhead community. The park also has everything from walking trails, tennis courts, a swimming pool, to softball and baseball diamonds.

There's also Chastain Horse Park — a premier accredited PATH (Professional Association of Therapeutic Horsemanship) center that serves riders of all ages and abilities. Chastain Park also hosts events throughout the year, like the July 4th parade. Residents in-and-around Buckhead have no shortage of entertainment options, thanks to Chastain Park.
Centennial Olympic Park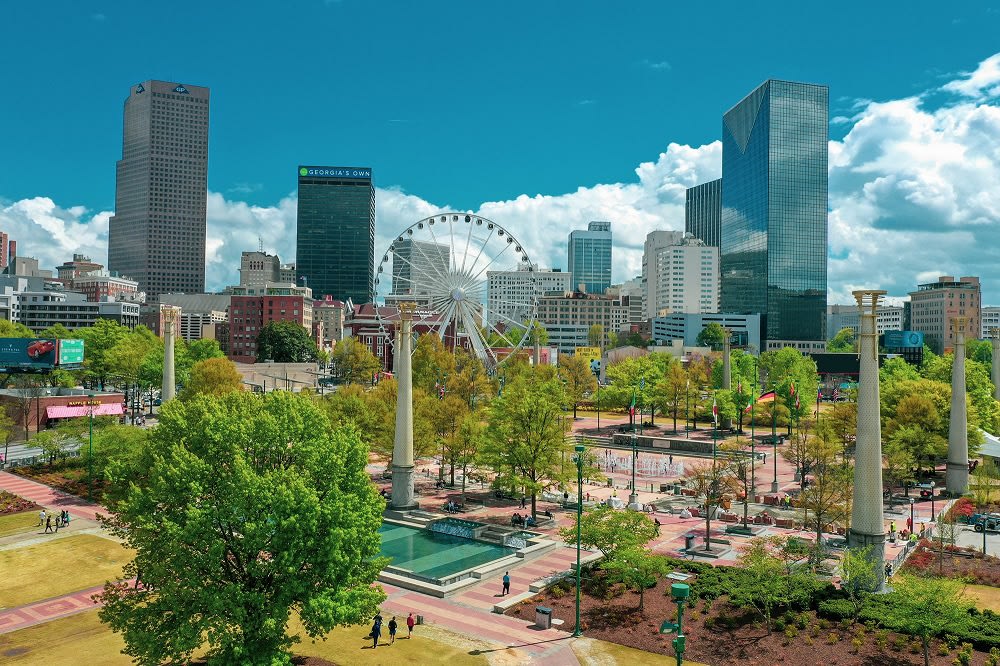 Perhaps the most urban of the bunch is Centennial Olympic Park. This 21-acre park was originally built in anticipation of the 1960s Olympics, and it remains a major source of entertainment for the city's downtown community. Multiple playgrounds and gardens make Centennial the perfect place to meet friends for a stroll or picnic.

The Fountain of Rings is also a Centennial staple. This interactive water park was the centerpiece for the 1960s Olympics, and it remains one of Atlanta's most recognized sites. Kids love beating the heat by running through the fountain and making a splash. Centennial Park also hosts four major events throughout the year, which bring hours of festive fun to the entire city.
Looking for homes for sale in Atlanta? Contact The Elliott Group for more information about this incredible city.