1. Visit Piedmont Park
Piedmont Park has all the right features for a fun and relaxing park day outside. With plenty of green space for walking or picnicking, as well as woods, pond areas, and more, Piedmont Park spans over 185 acres, and there is always something happening here. There are endless opportunities for all age groups and interests. Piedmont Park is also dog friendly, so you can feel free to bring along your furry friend for a park day out of walking or playing in one of Piedmont Park's dog parks. Be sure to find playing fields to enjoy your favorite sports. If you're bringing the kids, allow them to enjoy the many playgrounds and a pond where ducks often can be seen. You can also take a refreshing swim at the park's large swimming pool.

If you're interested in the rich history that the area has to offer, you can go on a guided walking tour of the park to discover all of its historical significance. These tours are free, but make sure to book a reservation on Piedmont Park's website to ensure your spot. Oftentimes, especially on the weekends, there are events and festivals hosted here, increasing the popularity of the park tours. You'll be able to get an incomparable view of the Atlanta skyline while enjoying all of Piedmont Park's amenities. This park's large size and historic meaning will make this a spot you'll love to spend time outdoors in Atlanta. One thing is for sure — you'll never be bored at this iconic park.
2. Atlanta Botanical Garden
Gorgeous plants, flowers, and more can be discovered at the Atlanta Botanical Garden. Located within Piedmont Park, the garden is an amazing way to explore some conserved horticulture. There are over 30 acres of gardens and displays to discover, and as such, it's been well-loved by its visitors since it opened in 1976. The botanical garden regulars described it as a serene getaway, where you can walk through a gorgeous environment and see things you've likely never seen before. One of the exciting things about this garden is its Fuqua Orchid Center, which contains rare orchid flowers that were unable to grow in this area without the Atlanta Botanical Garden.

The garden also hosts many themed exhibitions for a limited time throughout the year. Currently, they're hosting one called SUPERnatural: Aerial Art in Motion, Glass Art in Bloom. This event combines the garden's beauty with artwork; it's an exhibition you won't want to miss. It features glass art by artist Jason Gamrath; many of his pieces are in the shape of popular flowers and other plants. Additionally, there is an art piece by Patrick Shearn called a "skynet," which looks like colorful birds flying in the sky. If you go in the evening, you can even experience this event during Cocktails in the Garden, so you'll be able to have some delicious cocktails or other drinks while viewing this stunning artistry and the beauty of the botanical garden. There's even live music to accompany the art and drinks! The Atlanta Botanical Garden is open every day except Monday from 9 am to 9 pm.
3. Bike Tours
If you're looking for a way to be active and to explore some of the many beautiful areas, you should check out one of Atlanta's guided bike tours! These tours have trained guides who have in-depth knowledge about the Atlanta area and will take you on a journey to see all of the sights that Atlanta has to offer. One company that offers these bike riding tours is called Bicycle Tours of Atlanta. They offer a variety of different tours depending on what you want to see and how long you'd like to bike for, with tours in between 2 hours and 3.5 hours.

Some of the tours they offer include the Fall in Love With Atlanta Tour, Atlanta's Journey for Civil Rights Bike Tour, and Atlanta's Queer History Bicycle Tour. You can even book custom tours if you'd like to do something different. The Fall in Love With Atlanta Tour is a 2.5-hour long trip that takes you through some favorite spots around, including the Atlanta Beltline, the historic King Street, gorgeous street art, and so much more.

The Atlanta's Journey for Civil Rights tour is a 3.5-hour tour where you'll be taken through historic sites and Atlanta's role in the Civil Rights Movement, the Civil War, the Jim Crow era, and current social justice issues today. This is an informative way to learn more about Atlanta and its history. Finally, the Queer History tour is a 3-hour long tour where you will see LGBTQ+ communities and centers in the area and how they came to be today; you will also get a sense of the LGBTQ+ nightlife in Atlanta. All of these bike tours are a wonderful way to learn something new about history, stay active, and see what Atlanta has to offer.
4. Centennial Olympic Park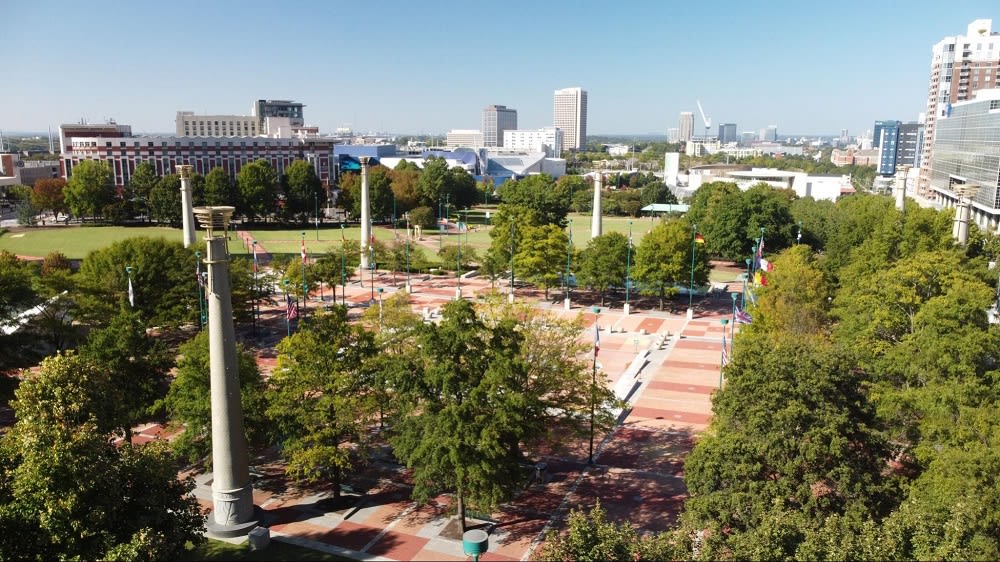 The Centennial Olympic Park was originally made for the Summer Olympics of 1996, and today it is a fun and exciting park that people love to visit. There is so much to do here, with a ferris wheel and concerts featuring live music on a weekly basis. One of the main attractions is the giant Olympic rings. It's a place where you can bring the kids too, with a splash pad to have fun and cool down in, multiple playgrounds, and more. With around 22 acres of space, there is tons of greenspace, playgrounds, gardens, and history to explore.

The 1996 Olympic Games played an important role in history. At these Olympics, a tragic bombing took place, so there are landmarks to memorialize the people who took part in these Olympics throughout the park. This includes the famous Quilt of Remembrance, which honors those who passed away. This park is one where you can learn about history and enjoy the park's amazing amenities and fun events that they host, making it one of the best ways to get outside in Atlanta. Another convenient thing about this park is its location. Being located in downtown Atlanta means it's just minutes away from other attractions in the area, such as the Atlanta Aquarium, Mercedes Benz Stadium, delicious restaurants, and everything else that downtown Atlanta has to offer.
5. Zoo Atlanta
If you love animals and want to spend a day outside, you should visit Zoo Atlanta. This zoo was explicitly made for animal and wildlife conservation, and it was made to cater to families who want to have fun and learn about animals. While you're here, you'll have the opportunity to see over a thousand different animal species. It's most well known for having one of the highest numbers of great apes in America, as well as for its reptile and amphibians exhibit that has more than 70 types of reptiles and amphibians.

This zoo has everything from giant pandas, to rhinos, to reptiles and everything in between. There are lots of exciting and unique things to do here as well. They have opportunities to feed giraffes, rides for children, wildlife presentations from zookeepers, zookeeper talks, and so much more. If you're hungry while you're here, you're in luck because they have over eight spots to grab a bite to eat. The zoo is also known for hosting events throughout the year; the list can be found on their website. At the end of August, the zoo is hosting its annual "Brew at the Zoo" beer festival. Keep an eye out on their website for more fun events to come! With all of its perks and things to do combined, Zoo Atlanta is an amazing way to learn about animals firsthand and spend a day out with the family.
Want More Atlanta?
Atlanta offers lots to do in the warmer months and all year round. This is one of the many reasons why its residents love to call it their home. If you're looking for homes for sale in South Fulton, Fayetteville, or other Atlanta areas, get in touch with The Elliott Group. Your Atlanta dream home awaits.