Franks At The Old Mill
Known for its romantic ambiance and old-school Italian-American dishes,

Frank's At The Old Mill

is a lovely place to go for a date night or special occasion. This restaurant is located inside one of the oldest buildings in historic Fayetteville. You'll also get a spectacular view of the lake from the dining room, making Frank's the perfect spot for special occasions such as wedding rehearsal dinners, birthdays, and any other of life's milestones.





Seafood connoisseurs will love their Oyster Deck menu featuring the finest seafood and oysters, and Frank's often holds multi-course dinners for special events like Easter, Mother's Day, and Valentine's Day. Vegetarians will find plenty of options at Frank's.





If you're going to Frank's for dinner, expect classic Mediterranean and Italian entrees paired with hearty steakhouse choices like Angus ribeye and pork chops. Their specialties include Frank's famous lasagne, crabmeat-stuffed tilapia, manicotti florentine, eggplant parmesan, and more delicious dishes. With friendly staff and excellent service, check out Frank's At The Old Mill for your next unbeatable brunch or special event.



Broadway Diner

If you're seeking comfort food, Broadway Diner offers a large menu of homemade dishes that you're sure to love. With its comfortable atmosphere and expansive menu with many different choices, there's something for everyone to enjoy. With breakfast, lunch, and dinner available all day, you're free to drop by at any time. You'll find many cuisines here, like American, Italian, and Mediterranean.

Broadway Diner prides itself on making its homemade food with only the freshest ingredients. For breakfast, you can order all of your classic favorites — think bacon, eggs, sausages, bagels, Belgian waffles, pancakes, and even other larger breakfast dishes like steak and chicken. You'll find a large lunch and dinner menu, but among Broadway's most-loved dishes are their house-made burgers, Greek gyro, steaks, pork chops, and their chicken pot pie.

Broadway Diner's menu is seasonal, and is based on the best ingredients and produce available at the time. You may not find exactly the same items every time you dine, but you can always expect something delicious and high-quality. Check their website for their latest offerings.

Finally, make sure to save room for dessert. Broadway Diner's bakers craft delicious pastries, cakes, and more every day! Satisfy your sweet tooth with treats like cakes, brownies, New York-style cheesecake, monster cookies, fruit pie, and more. Broadway Diner also offers options for all diets, including vegetarian, vegan, and gluten-free dishes. With so much for everyone to love, Broadway Diner is a Fayetteville family favorite.
Twisted Taco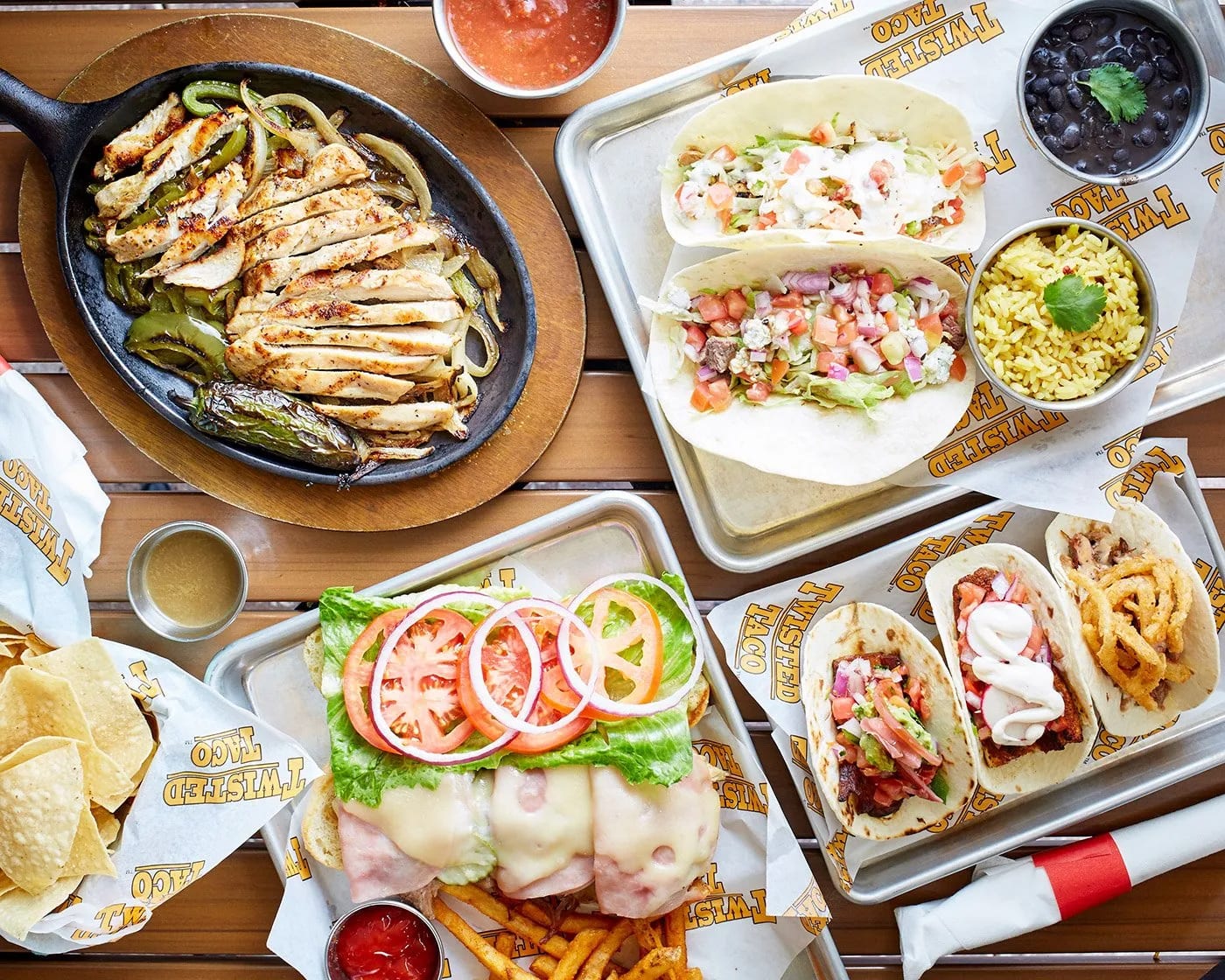 Credit: Twisted Taco
Twisted Taco serves excellent Mexican food in a fun restaurant and bar atmosphere. Your group can choose to sit in their main indoor dining room, or, if the weather permits, their rooftop dining area. With a full bar, Twisted Taco is an ideal place to go for a night out, enjoying some drinks and good food with good company. If you like sports, you'll love their TV displays all playing the hottest sports games. Cheer on your team while you enjoy game-day snacks and one of their many draft beers.

There are specials every day of the week at Twisted Taco! Depending on the day, you'll find deals on tacos, fajitas, burritos, nachos, and so much more. With unique options like pulled pork and crab, you'll never tire of their taco selection. Locals rave about their house-made guacamole, and they make amazing drinks as well! Try one of their famous frozen margaritas or enjoy Twisted Taco's selection of cocktails, beer, wine, and other beverages. This restaurant's fun, laid-back atmosphere, tasty Tex Mex food, and fantastic drinks all make it a can't-miss Fayetteville destination.
Partners II Pizza
For delicious specialty pizza in Fayetteville, go to Partners II Pizza. Open for both lunch and dinner, this family restaurant's many gluten-free and vegetarian options make it a wonderful spot for people of all diets. Beyond their excellent slices, Partners II Pizza offers pasta dishes, sandwiches, entree-sized salads, and a range of fried pub food.

From your classic cheese and pepperoni to more unique options like sundried tomatoes, spicy sausage, jalapeño pepperoni, and feta cheese, you won't tire of this pizzeria's large selection of meats, vegetables, and cheeses. You can customize your pizza to exactly the way you like it here, or pick from their many delicious combinations like the Road Runner and Bleu Buffalo.

Partners II Pizza is a wonderful eatery that the whole family can enjoy! You'll be sure to love this restaurant's laid-back ambiance, as well as their live music lineup every single weekend. Enjoy a slice and a cold beer as you take in local talent. Partners II Pizza even offers catering for special events! If you're in the mood for quality and tasty pizza, you'll love this neighborhood pizzeria.
Royal Stix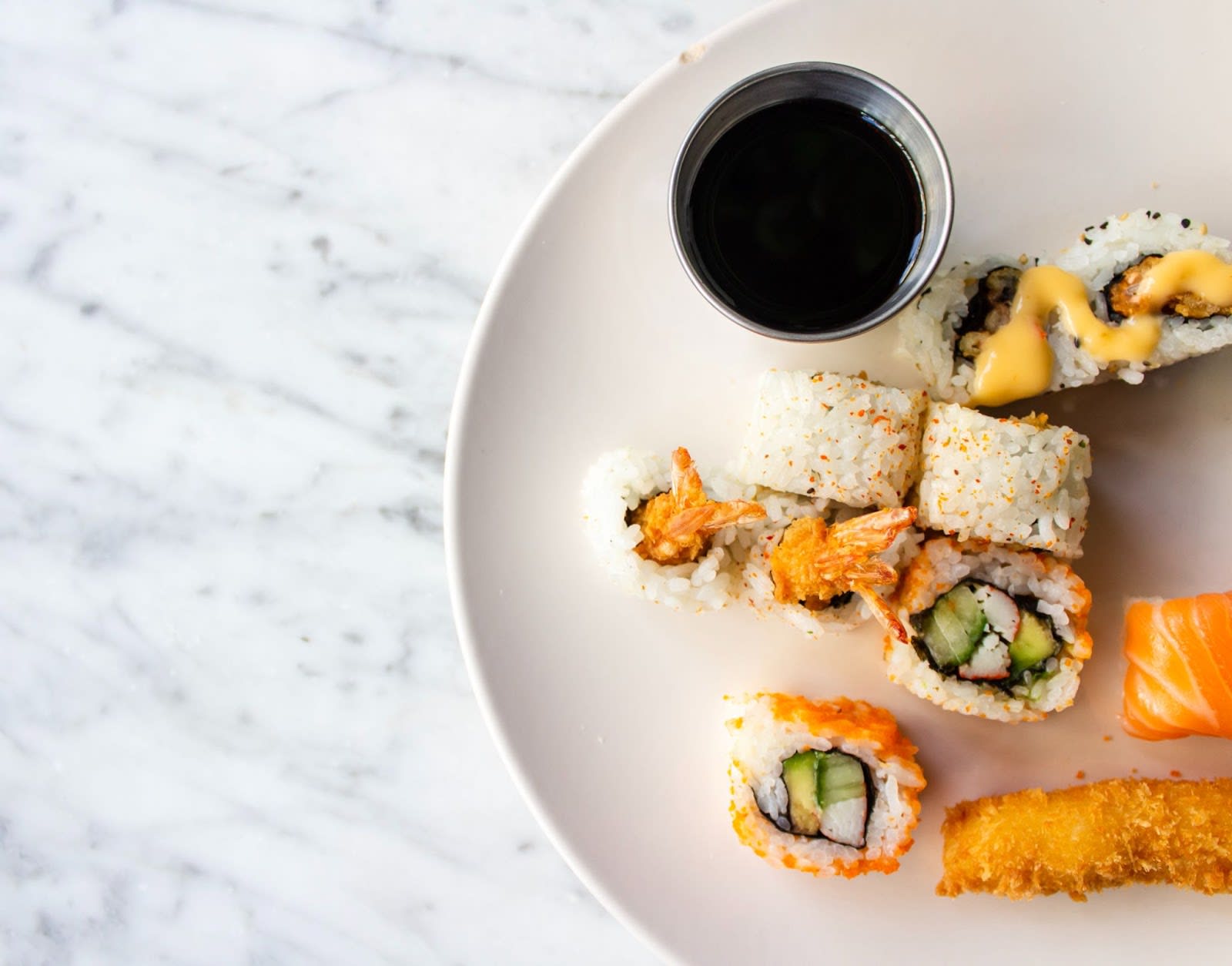 If you're in the mood for Asian food, Royal Stix is Fayetteville's answer for Chinese, Thai, and Japanese cuisine. Formerly known as Stix Sushi, this pan-Asian restaurant is best known for its excellent sushi rolls. Their inventive menu includes funky buddha rolls, rainbow rolls, mango crunch rolls, and so many more options — all using the freshest salmon, crab, avocado, tempura shrimp, and tuna.
If you're not in the mood for sushi, you'll also enjoy Royal Stix's other entrees. Many locals say the hardest part of coming here is deciding between all the tasty dishes on offer! You'll find Thai red curry with jumbo shrimp, steak hibachi specials, tangerine fish, and General Tso's chicken. If you're interested in noodle dishes, they have many choices too, including pad thai, surf-and-turf lo mein, and house mei fun. With so many options, you'll want to check out their full online menu. Many of their dishes can be made vegan or vegetarian, so it's great for those following a plant-based diet.
Other than Royal Stix's excellent food, visitors often rave about this restaurant's friendly staff and wonderful service. With its beautifully-presented dishes, atmospheric bar area, and a robust menu of tasty Chinese, Thai, Japanese, and other Asian food, Royal Stix is one of the best places to dine in Fayetteville.
Loving Fayetteville?
From its tasty eateries to its beautiful residential properties, Fayetteville has so much to offer. If you're looking for houses for sale in South Fulton or Fayetteville, get in touch with The Elliott Group. Joel Elliott and his team of Fayetteville real estate agents will be happy to help you find your dream home.